Are you searching for expert cockroach pest control in Dubai? Say Goodbye to Cockroaches
Did you know that cockroaches can survive without food for nearly a month? Or that they can go without water for up to a week? Well, cockroaches are tenacious creatures that can survive in almost all conditions. These tenacious creatures are hard to eliminate once they've infested your home. If you're dealing with a cockroach infestation, you need to take action immediately. These pests can spread diseases and contaminate your food, so getting rid of them as soon as possible is important. So, are you searching for expert cockroach pest control in Dubai? Say Goodbye to Cockroaches with AL MANAMA Pest Control. 
We have a variety of methods to eradicate cockroaches, including sprays, powder, gels, and bait systems. We also have an environment-friendly approach that uses less toxic chemicals. So don't hesitate to call us if you need cockroach pest control in Dubai! We'll be happy to help you get rid of these pesky critters.
Why Do You Need Cockroach Control Service? 
If you have a cockroach population in your home, you need to know how unsafe you are. They can harm you in a number of ways, so you shouldn't let them start a colony inside your home. They can quickly reproduce and grow. Additionally, they enjoy hiding and can live off the bare necessities.
Your papers and food are not secure.

They also cut through clothes and papers. 

Make your place unhygienic 

Cockroaches can also spread diseases

They can also trigger allergies in some people.

Cockroaches like to gnaw on unsupervised food items. 

causes extreme discomfort and panic to some people

Anywhere in your house will serve as a cockroach defecation site.
Why Choose Us?
We at AL MANAMA Cockroach Pest Control Dubai know how to control cockroaches. You may rely on the knowledge we have gathered by providing the answer to the question of cockroach control service near me for many years. Over the years, we have added several cockroach control tools and techniques to our arsenal. Our broad range of pest control solutions for cockroach infestations ensures that your home or office is free of these pests. Call us now for a free site inspection and quotation!
Here are some of our techniques discussed in brief to get rid of these cockroaches – 
At first, we spray in the infested area to kill cockroaches and their habitat. Then after 21 days in follow-up service, we use powder and gel according to the wish of clients. All of our chemicals and powders are premium and government-approved. We also provide a six-month warranty.
Pesticide spraying is a common technique that a cockroach pest control service Dubai. In this method, pesticides are sprayed onto the cockroaches' preferred habitats. The cockroaches are almost quickly killed by the spray's chemicals. The spray's chemicals kill off the cockroaches almost instantly. Professionals should do this spraying to avoid health hazards from pesticides. General Pesticides Spraying is an effective way to get rid of cockroaches quickly.
Looking for a unique and effective cockroach pest control solution? Look no further than Gel Treatment! This innovative gel treatment lures cockroaches so they can feed on its lethal ingredients. While killing them takes a bit longer than traditional pesticides, it will ultimately finish the entire colony from within. Plus, it's guaranteed to make your home cockroach-free in just a few weeks. So if you're tired of dealing with these pesky pests, give Killer Gel Treatment a try – you won't be disappointed!
Do you know how dangerous cockroaches are? 
Cockroaches are one of the most widespread pests in residential and commercial settings. They are often seen as a nuisance but can pose a serious health risk. 
Cockroaches can carry a variety of viral diseases.

They can move fast and contaminate all your food in a short time. 

Impossible to be aware of the growing number of them in your home. 

They can survive on little and do not need to look for food often

Despite being vigilant, you could not notice them.

Generally inhabit moist and dirty places. 

From their hiding places, they carry dangerous substances on them.

Some people can suffer from asthma and allergy 

They can also spread diarrhea, dysentery, cholera, and typhoid fever.
Common Cockroaches in Dubai, Sharjah, And Ajman.
There are different types of cockroaches found in Dubai, Sharjah, and Ajman. So, you need to know about all of them:
The most common Cockroach in Dubai is the German cockroach. It is tiny and light brown in color. This Cockroach is usually found in kitchens and bathrooms because they like to eat food high in carbohydrates, such as bread and pasta. They are also attracted to sugar and grease. German cockroaches can multiply quickly, so getting rid of them as soon as possible is important.
Another type of Cockroach found in Dubai is the American Cockroach. This Cockroach is much larger than the German and can be up to 4 inches long. It is reddish-brown and has a long, oval-shaped body. American cockroaches are commonly found in commercial kitchens and restaurants because they prefer to eat spoiled food. They are also attracted to damp places such as basements and sewers.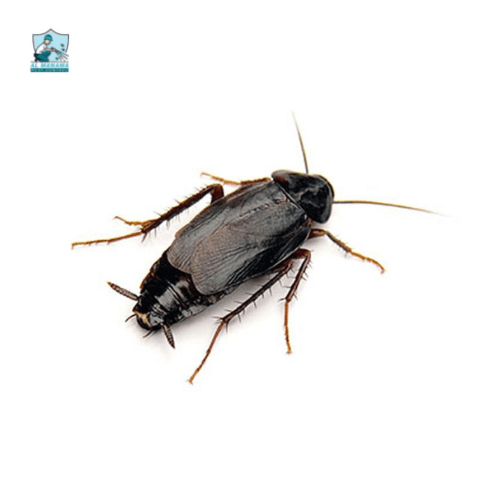 The third type of Cockroach found in Dubai is the Oriental Cockroach. This Cockroach is black or dark brown and has a glossy body. Oriental cockroaches are often found in damp places such as basements, drains, and sewers. They are also attracted to garbage cans and garbage dumps.
The fourth type of Cockroach found in Dubai is the Asian Cockroach. This Cockroach is similar in size and appearance to the German cockroach, but it is dark brown or black. Asian cockroaches are often found outdoors in shady, humid areas such as gardens and trees. They are also attracted to lights, so they may be seen flying around outdoor lights at night time. If you have an infestation of Asian cockroaches, it is best to contact a professional pest control company that can treat the problem with insecticides.
How to prevent Cockroaches?
Cockroaches are attracted to food, water, and warmth. They enter homes through cracks and crevices in search of these things. To prevent cockroaches, seal these entry points and make your home as inhospitable to them as possible. 
-Store food in sealed containers, and frequently dispose of trash.
-Fix leaks and keep your home clean and clutter-free. 
-Cockroaches are attracted to light, so keep lights off or use traps.
Sign of Cockroaches
The most common sign of cockroaches is the sighting of one or more roaches. If you see a cockroach, there are likely many more hiding in cracks and crevices. Cockroaches also leave behind droppings that are small, dark, and cylindrical. If you see cockroach droppings, this indicates that you have an infestation. 
Other signs of cockroaches include an unpleasant, musty smell. This smell is produced when cockroaches release pheromones to attract mates or indicate a food source. If you notice this smell, you likely have a cockroach problem. 
Get rid of Cockroaches?
If you have cockroaches, getting rid of them as soon as possible is important. Cockroaches can carry disease and contaminate your food. Additionally, they may cause allergies in some persons.
Hiring a reputable pest control business is the best approach to get rid of cockroaches.

Pest control companies have the experience and expertise to quickly and effectively eliminate cockroaches. 

They will also be able to advise you on the best way to prevent cockroaches from returning in the future. 
There are a few things you can do to prepare for cockroach pest control: 
-Remove all food sources: Cockroaches are attracted to food, so the first step is to remove anything that could be considered food. 
This includes crumbs, spills, pet food, and anything else that might be tempting to a cockroach.  
-Seal up any cracks or crevices: Cockroaches can squeeze into tiny spaces, so it
Contact us now for cockroach pest control Dubai! Our experienced and certified pest control team will work diligently to eliminate these pests. We have a variety of effective methods to choose from, so you can rest assured that your problem will be taken care of in the most efficient way possible.
FAQ's
If you think you have cockroaches, taking action immediately is important. Here are answers to some frequently asked questions about cockroaches:
If you think you have cockroaches, taking action immediately is important. Here are answers to some frequently asked questions about cockroaches: